At The Happy Hippo Diving we try to make a positive impact on sustainability. Even beyond Curacao. We do this by not only by making the best choices with our company that really make a difference but also by supporting local initiatives for nature conservation and sustainability.
The Happy Hippo donates 10 percent of its yearly revenue to Curacao environmental organizations.
With this we want to go above and beyond. Meaning that by choosing The Happy Hippo, you automatically contribute to a better world.
An invasive species can be a plant, fungus, land animal or marine animal that is not native to a specific location. Invasive species, like the lionfish, have the ability to spread in huge numbers and are believed to cause huge amounts of damage to the environment, economy and even the health of humans and other animals.
The lionfish is an invasive species in Curacao. Because they don't have any natural predators here, they have the chance to multiply quickly, overtaking and killing native species, which results in a huge danger for the local environment and aquatic life in Curacao. To control this invasion, it is (for certain people and under strict rules) allowed to hunt lionfish.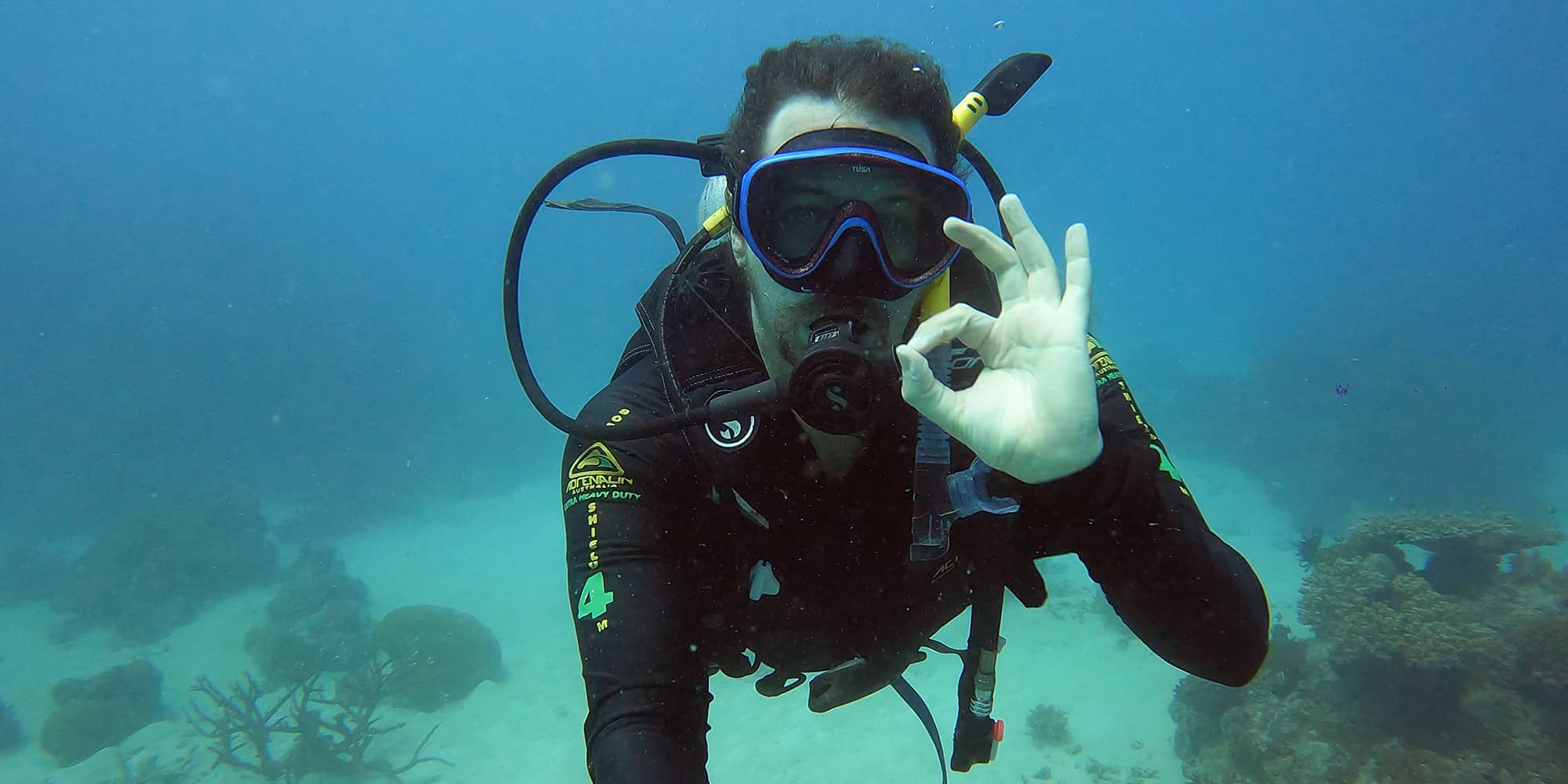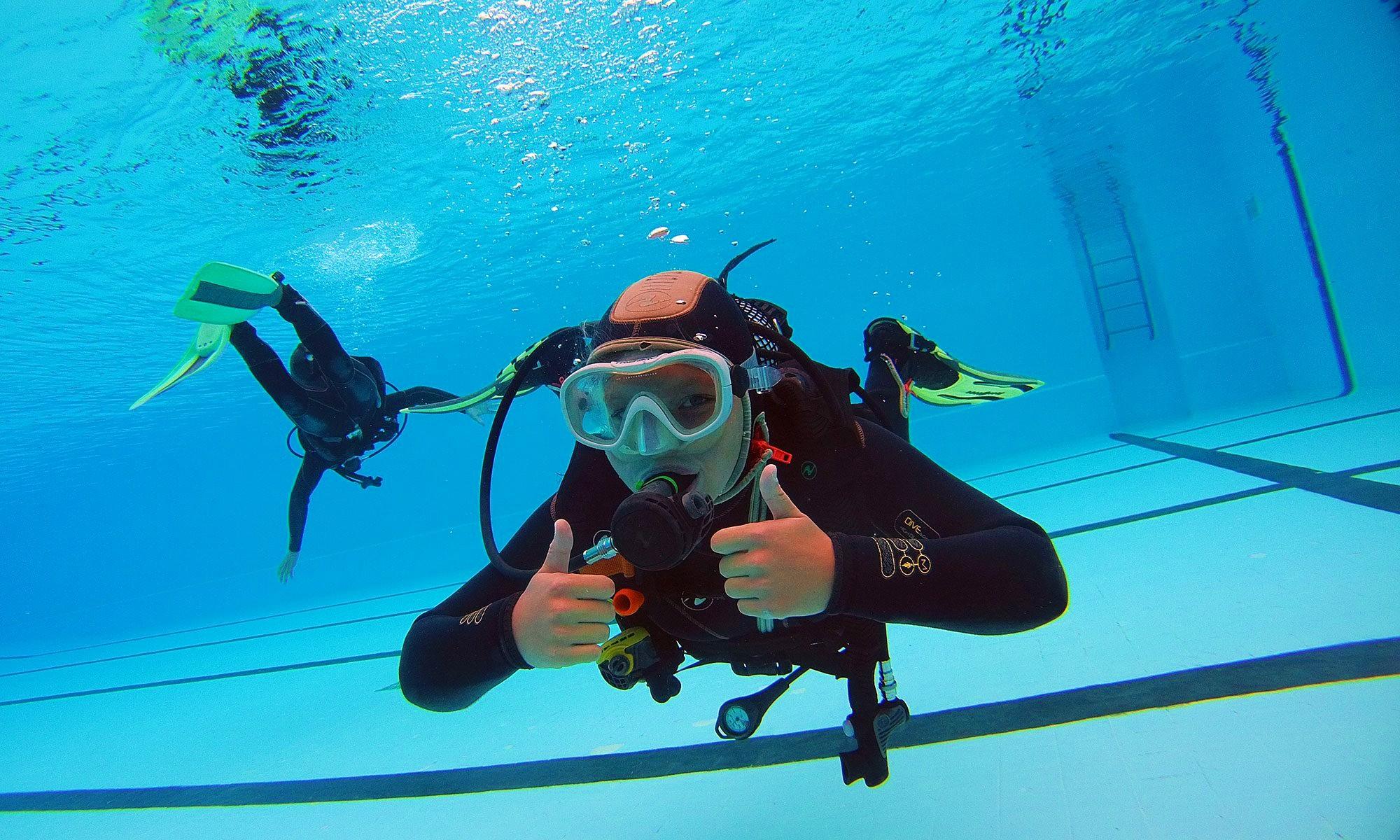 IMPORTANT TO KNOW:
Any kind of underwater hunting gear is strictly prohibited in Curacao!!
However due to the severity of the problem, the Public Prosecution Service of Curacao announced in 2012, that they would NOT prosecute organized groups of hunters in territorial waters, if the approved rules were followed.
These rules are as follows:
Hunting is only allowed for Lionfish (Pterois species)
Lionfish Hunting is only allowed in an organized context and with the ELF-tool or pole spearYou need to register as a lionfish hunter
You must liaise with the Coast Guard.
The Happy Hippo Diving adheres to all these rules and has even launched a special division, Team HELL. (Hippo Elimination Lionfish League), to combat this invasive species.
According to the nonprofit Reef Environmental Education Foundation, lionfish can eat more than 70 species of native fish and invertebrates, including individuals up to half the size of the lionfish, and can eat 460,000 fish per acre per year—which has reduced native fish populations on some reefs by up to 90 percent.
Team H.E.L.L. (Hippo Elimination Lionfish League)
H.E.L.L. is a group of dedicated volunteers who spend their free time clearing the waters of Curacao of this invasive species. Team HELL. (Hippo Elimination Lionfish League)
These are experienced divers with a passion for environmental protection and willing to protect our reefs from the Lionfish. A desire to kill them helps. At times we participate in Lionfish hunting derbies on Bonaire.
REQUIREMENTS
Minimum Age: 18 years old.
PADI Adventure Diver( or equivalent)
Minimum of 20 dives with no less than 5 deeper than 30meters
Lionfish Hunter Specialty
Medically fit for diving.
Sign up now and receive your membership card.
For more info contact Us.
Follow team H.E.L.L (Hippo Elimination Lionfish League) On Facebook
In the meantime, divers of The Happy Hippo are able to experience the Lionfish hunt themselves and contribute to fighting this invasion by joining the Lionfish Hunter Specialty. This course consists of a knowledge development session, practice using the hunting tools, and two training dives actually hunting lionfish. Read more about the Lionfish Hunter Specialty course.
Did you know?
The red lionfish (Pterois volitans) and the common lionfish (Pterois miles) are the most abundant species of the invasive lionfish population in the Atlantic and Caribbean.
Female Lionfish can lay between 10,000 and 30,000 unfertilized eggs every 4 days year around. That is approximately 2 MILLION eggs per year.
Lionfish can be eaten and is a delicious, delicately flavored fish similar in texture to grouper.
PADI AWARE Foundation is a publicly funded non-profit with three registered charities across the globe. Our mission is to drive local action for global ocean conservation. We advance our mission through citizen science, public policy and community grants. With PADI – the world's leading scuba diver training organization – we drive towards our collective vision to achieve balance between humanity and the ocean.
PADI AWARE Foundation Cards
Each year, environmental charity PADI AWARE Foundation releases a limited edition card. Every purchase includes a tax-deductible $10 US donation that funds ocean conservation and marine animal protection. Donations support the Conservation Blueprint – a vision to achieve balance between humanity and ocean.
Each student certified by The Happy Hippo Diving will automatically receive a PADI AWARE FoundationTM edition of the PADI AWARE FoundationTM edition of the PADI Certification card absolutely FREE.
This card made from recycled plastic includes a tax-deductible $10 US donation that funds ocean conservation and marine animal protection. 100% of the donation benefits the PADI AWARE Foundation, a non-profit public charity that drives local action for global ocean conservation. Backed by the power of the PADI brand and supported by the world's largest global network of 6,600 dive centers and resorts and more than 128,000 professional members worldwide, PADI AWARE Foundation leverages the collective influence of divers and the dive industry to address key threats facing the marine environment including climate change, marine habitat loss and vulnerable species protection
Curacao Environmental Organizations Support By Us!
SEA TURTLE CONSERVATION CURAÇAO
Sea Turtle Conservation Curaçao (STCC) is an NGO (a non-profit organization) dedicated to the conservation, research, education, and awareness related to sea turtles and their habitat in Curaçao. We work together with volunteers and other dedicated people, who support us with their help, experience and donations. Our common mission is to protect sea turtles and their environment. We do beach monitoring. We check for any nesting activity, do health inspections, remove dangerous trash from the beaches, etc. We usually monitor several beaches around the island, including Klein Curacao.In addition to monitoring, a few times per month we organize bigger clean-ups. This is made to reduce the amount of plastic that ends up in the ocean and can harm sea turtles and other animals.
REEF RENEWAL CURAÇAO (RRC)
Reef Renewal Foundation Curaçao (formerly known as Coral Restoration Curaçao) is a non-profit organization that was set up in 2015 by the initiative of Ocean Encounters Diving Curaçao.
Reef Renewal Foundation Curaçao focuses on restoration of the shallow reefs by establishing staghorn coral (Acropora cervicornis) and elkhorn coral (Acropora palmata) nurseries and restoration sites. The project started with 20 coral nursery trees and has grown each year ever since. Today, there are 40 trees and over 10,000 corals have been outplanted back to Curaçao's reefs.Your donation to Reef Renewal Foundation Curaçao can make a difference!
REEF RESTORATION TEAM CURAÇAO
Reef Restoration Team Curacao started at Tugboat beach Curacao. Here we grow and propagate Coral through fragmentation. When the coral is big enough we do an outplant where the reef is restored. Follow Reef Restoration Team Curacao for a story about growing corals and restoring the reef.
The Curaçao Marine Park has a length of 20 kilometers along the coastline and goes to a depth of 60 meters.The underwater park contains more than 6 km2 of healthy coral and 4.36 km2 of mangrove area. More than 65 different types of coral can be found in the Curaçao Marine Park. In addition, there are 350 different fish species swimming around in the park.The government of Curaçao owns the Curaçao Marine Park, the management is in the hands of CARMABI (Caribbean Research and Management of Biodiversity) with the aim of protecting marine life and the coral reef.